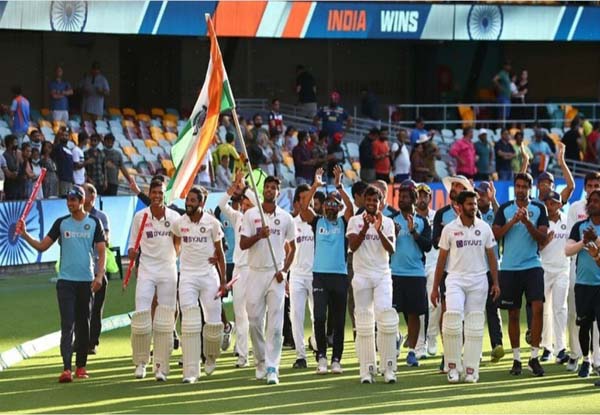 Xtra Time Web Desk: India wicketkeeper batsman Rishabh Pant on Monday said it was a different feeling altogether to make a victory lap at the Gabba with the tri-colour. Pant in a candid interview to Boria Majumder on You Tube channel Sports Today, recalled the winning moment from the historic test match at Gabba. The dashing cricketer from Delhi played a blinder of 89 not out to take India home, successfully chasing 324 on the final day against a menacing Australian bowling line up.
"It's a different feeling to hold the national flag. I get goose bumps whenever the national anthem is being played.  I just cannot express the feeling that moment as what was happening," said Pant.
Pant said he forgot that his batting partner during the final moments, Navdeep Saini had picked up a groin injury while bowling in the second innings. But he pushed him to run 3 to complete the run chase.
India were reduced to 325 for 7 as they lost Washington Sundar and Shardul Thakur in quick succession on Day 5. Just when 3 runs were needed to seal the historic win, Pant hit a Josh Hazlewood delivery straight down the ground, past the mid-on fielder.
"When I played the lost shot, I felt the ball hit the bottom of the bat. The outfield was also slow. So when the ball was travelling, I told Saini (non-striker). I told him Saini '3, not 2 but 3'. His groin injury slipped my mind and I was running fast," Pant said without pausing.
"First run, I closed my eyes and ran. While running the second run, I noticed that the mid-off fielder didn't even chase the ball. I was wondering 'why is this fielder not running?'. Then I noticed, the ball was going towards the boundary, then I was filled with joy. I was shouting 'Saini 3, we have to run 3'. Saini was running on one leg. It was fun," he added.